Recommended Bible Apps
Safe Haven App & Digital Community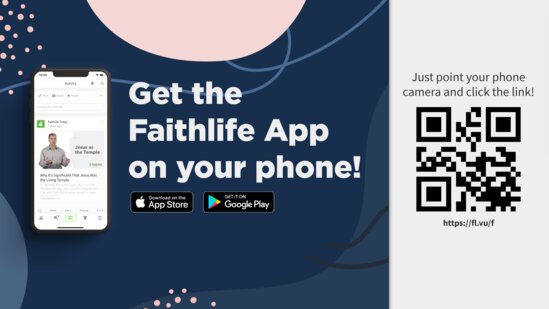 Safe Haven has a digital app and community called "Faithlife". On it you will find our directory, a calendar of events, a link for giving, sermons, announcements, bulletins, Faithlife TV, the ESV Bible, our COVID-19 Waiver form for services, and the ability to communicate between congregation members for prayer requests and keeping in touch. Just with Faithlife TV, it has free original documentaries, live streams, mobile education instruction, kids programming, Bible study tools, biography presentations, presentations on Christian living, dramas, group studies, information on health and wellness, historical presentations, information on marriage and parenting, movies, music, Our Daily Bread, programs on science and creation, sports, teens, travel and so much more.
On Faithlife you can have video chats just like Zoom etc. and the good news is it doesn't have the cost or limitations of Zoom or other platforms. Also, by not using a secular platform we have less to worry about getting cancelled for being Christian. To use this feature, look on the left side of Faithlife platform and go to Group Chat. Then on the bottom right is a button that looks like a video camera. They can click on that and that creates a link that they can send to whoever they want to video chat with.
Join for free by clicking here. You can also download the Faithlife App and have access to everything through the app. If you have any problems, contact us so we can help you get started.
ALSO:
Download a mobile Bible app for following along during the sermon. Both use the same login information as your Faithlife account (what you use to sign into our church website).
ESV Study Bible
The ESV Study Bible was created to help people understand the Bible in a deeper way—that is, to encounter the timeless truth of God's Word as a powerful, compelling, life-changing reality. To accomplish this purpose, the ESV Study Bible combines the best and most recent evangelical scholarship with the ESV Bible text, which, as an "essentially literal" translation, is especially suited for Bible study. The result is the most comprehensive study Bible ever published—with completely new notes, maps, illustrations, charts, timelines, articles, and other features. Created by an exceptional team of 95 evangelical Christian scholars and teachers, the ESV Study Bible contains more than 2 million words of Bible text and insightful explanation and teaching—equivalent to a 20-volume Bible resource library. (See the complete list of contributors.)
The purpose and vision of the ESV Study Bible, then, is first and foremost to honor the Lord: (1) in terms of the excellence, beauty, and accuracy of its content and design, and (2) in terms of helping people come to a deeper understanding of the Bible, of the gospel, and of Jesus Christ as their Lord and Savior.
Logos Bible Software
The Logos Bible Software app is the mobile version of the world's leading Bible software. This free download comes with several Bible translations and other resources, and there are more than 100,000 books related to the Bible you can buy through the app.
Understanding Signals
The Faithlife Study Bible and Logos Bible Software mobile apps both listen for Signals from the slide presentation during a service.
Announcement slides will send a calendar signal to your phone, appearing as a hyperlink at the bottom of the app. Tap it to add events to your phone's calendar. And when Bible verses appear on screen, tap the Signal link to open the reference and follow along.
You can learn more about signals here. Be sure to allow the app to use your location, and then follow our church presentation when it is presented. You only need to do this once, and you'll be connected every week!