Wednesday Bible Study & Prayer Gathering
"A Survey of Church History, Part 2 A.D. 500-1500". Spring 2022 Mid-Week Series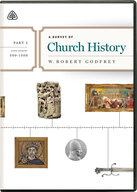 As the Roman Empire gradually crumbled in the fifth century AD, the people of the Mediterranean world turned to the church for leadership and direction in a new era of uncertainty. The next thousand years would prove to be a complex experiment in Christian civilization, one in which the church played a pivotal role in the development of Western government, thought, and culture. Join Dr. W. Robert Godfrey as he explores the hopes, challenges, triumphs, and tragedies of Christianity during the Middle Ages.
Series Outline
1. " Introduction to the Middle Ages". Wednesday Feb. 23rd, 2022.
2. "Justinian & Gregory". Wednesday March 2nd, 2022.
3. "Gregory, Missions & Islam". Wednesday March 9th, 2022.
4. "Paths to God: Theologies". Wednesday March 16th, 2022.
5. "Church Power & Dissent". Wednesday March 23rd, 2022.
6. "The Crusades". Wednesday March 30th, 2022.
7. "Innocent III". Wednesday April 6h, 2022.
8. "Monasticism & Scholasticism". Wednesday April 13th, 2022.
9. Theologians". Wednesday April 20th, 2022.
10 "Popes & Councils". Wednesday April 27th, 2022.
11. "Great Scholastics". Wednesday May 4th, 2022.
​12. "Mysticism & the Renaissance". Wednesday May 11th, 2022.
13. "Forerunners of the Reformation". Wednesday May 18th, 2022.