Women's Bible Study: Resuming Tuesday September 27th, 2022
Hebrews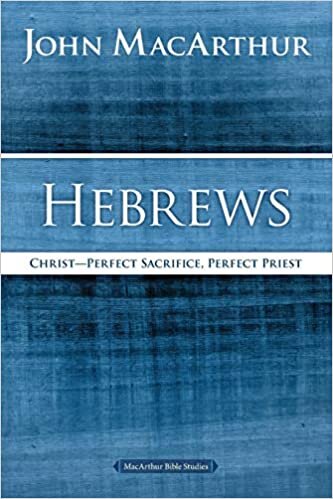 The early Jewish believers had come from a background of legalism and works. When God came to earth in human flesh as the New Covenant, these believers discovered the freedom they could have in Jesus and the relationship they could enjoy with Him. Yet in the midst of persecution and rejection, they were often tempted to hold on to the former symbols, rituals, and traditions grounded in the requirements of the Old Covenant. The unknown author of Hebrews sought to address this problem by contrasting the Old and New Covenants, brilliantly showing that Christ is higher than any Old Testament character, priest, ritual, or sacrifice. Because of Jesus' life, death, and resurrection, He is the perfect sacrifice and our own High Priest. And He has given all believers unfettered access to God! The MacArthur Bible Studies provide intriguing examinations of the whole of Scripture. Each guide incorporates extensive commentary, detailed observations on overriding themes, and probing questions to help you study the Word of God with guidance from John MacArthur.
12 Week Study:
1: Christ: Better than the Angels: Hebrews 1:1–2:18. Tue. Feb. 1/22.
2: Christ: Better than Moses: Hebrews 3:1–19. Tue. Feb. 8/22.
3: A Better Rest: Hebrews 4:1–13. Tue. Feb. 15/22.
4: Our Great High priest: Hebrews 4:14–5:10. Tue. Feb. 22/22.
5: Full Commitment to Christ: Hebrews 5:11–6:20. Tue. March 1/22.
6: Christ and Melchizedek: Hebrews 7:1–28. Tue. March 8/22.
7: A Better Covenant: Hebrews 8:1–13. Tue. March 15/22.
8: A Better Sanctuary: Hebrews 9:1–14. Tue Sept. 27/22.
9: A Better Sacrifice: Hebrews 9:15–10:18. Tue. Oct. 4/22.
10: All about Faith: Hebrews 10:19–11:40. Tue. Oct. 11/22
11: Perseverance: Hebrews 12:1–29. Tue. Oct. 18/22
12: Christian Behavior: Hebrews 13:1–25. Tue Oct. 25/22.
Tuesday mornings at 9:30 am
At Safe Haven Community Church
82 Church St. S. Ajax, On.
For More Information: Janet Hill