Help us fundraise by clicking on the Tru Earth link before and proceeds from purchases go toward our building fund...
BUILDING OUR NEW PERMANENT HOME
We've started with the excavation and once that is done the foundation and floor pad will be poured. We'll also at that time be putting
in the conduit that will run under the flooring and also any heating system if needed. That is
Phase One
and should be completed by the end of October.
Phase Two
will be erecting the structure that is stored in the backyard.
Phase Three
will be doing all the interior work such as walls, the platform and ramps, HVAC, lighting, ceiling fans, accessible washroom, painting, etc.
Phase Four
will be finishing the exterior including the masonry, the steeple, electronic sigh, landscaping etc.
Phase Five
is moving in and celebrate what God has done!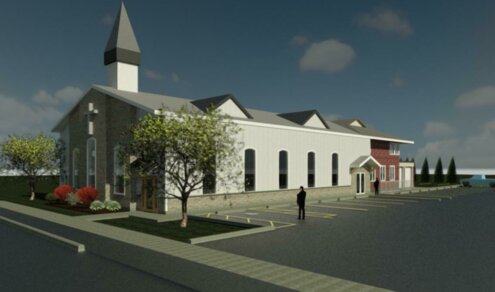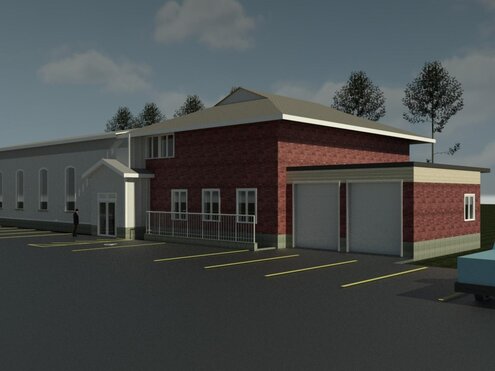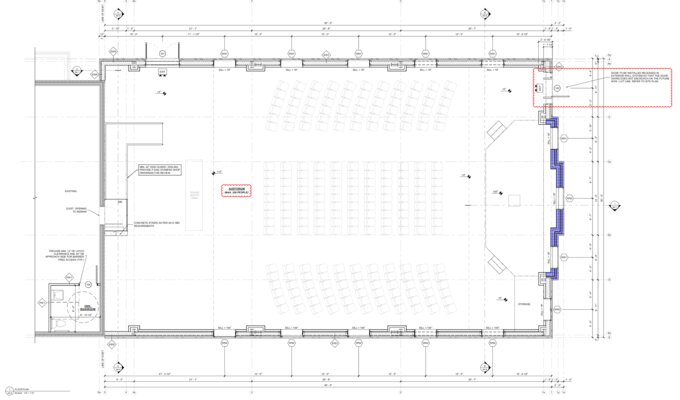 DETAILS OF OUR NEW PERMANENT HOME
CONSIDER POSSIBLE PLATFORM DESIGN
WITH A BUILDING SPACE OF 80' LONG AND 50' WIDE, WE ARE LOOKING AT A PLATFORM ABOUT 36' LONG AND 14' WIDE.WE WOULD APPRECIATE SUGGESTIONS ON PLATFORM DESIGN.
There are a lot of issues to consider in coordinating the interior design for our forthcoming worship building. There will be choices on platform design, lighting, electrical, sound, bathrooms, welcome centre, patricians, coat rack etc. A good place to start this process is theologically, for it is a space to encourage corporate worship. Previously, we reviewed a series entitled "Recovering the beauty of the Arts". The last lecture dealt with Architecture and the theological implications. The link to the video and notes are below. I can give a hard copy of the video or study guide to anyone who wants one.
Click here to see the video: "
Architecture" by R.C. Sproul from Recovering the Beauty of the Arts (ligonier.org)
Outline and Discussion Questions for: "Architecture"
Scripture Reading
Genesis 28:15–17
;
1 Kings 7:13–51
;
LEARNING OBJECTIVES
1. To understand the relationship between architecture and theology.
LECTURE OUTLINE
A. Architecture
1. Arche in Greek means "the chief," so that architecture means simply "the chief builder."
2. As far as places of worship are concerned, God can be worshiped anywhere, or in any facility. But just as time is sacred, so, too, can places be sacred. In the Old Testament, for example, we see the wilderness of Midian transformed into holy ground by the presence of the covenant Lord (Ex. 3).
3. The Psalmist wrote "Where shall I go from your Spirit? Or where shall I flee from your presence?" (139:7) as an indication that he knew of God's omnipresence. In like manner, the people of Israel knew that God could not be contained in a building.
4. The early Christian church met wherever they could. The assembly was seen as a corporate gathering. Therefore, ever since the Christian religion became lawful to practice, buildings were constructed to incorporate worship.
5. As with every culture's style and fad, architecture has changed throughout history. And like every other art form, it is linked to the history of ideas. In the Old Testament, for example, the construction of the temple was closely connected to
the concept of holiness. In like manner, once Christianity began to flourish in the Middle Ages, many grand cathedrals were built in order to capture that same concept of holiness.
6. One historical model of the church building is called the "cruciform," which is in the shape of a cross. High, vaulted ceilings and arched windows were intended to raise a person's eyes toward the heavens, to confess the high and
lofty character of God. Stained glass windows were elevated so high, that the scenes depicted on them could not be seen by the naked eye. The idea behind this was that the art was for God, for his glory.
7. If the response was awe when walking into one of these cathedrals, then the architects accomplished their goal—to lead people into awe of the holiness of God.
8. Cyprian, an early Christian bishop and martyr, likened the church to Noah's Ark: going inside is like passing through the waters of regeneration into God's salvation. At the least, we can say that entering into corporate worship brings us from the profane into the sacred.
9. From the Reformation onward, church buildings became utilitarian in order to accommodate fellowship, so that many of them looked like town halls. Today, many churches are built like an odeum (a theatre or concert hall), that is centered around a stage. This is an attempt by church leaders to rid the building of its "churchiness." They might want "seekers" to see that church-goers are no different than they are.
10. Once again we see that all art forms convey something. Christians must be aware that our church structures do indeed convey messages. In our current culture, it seems that we have lost the sense of the holy.
11. Obviously, the design of a church building does not ensure that the Gospel is being preached. Only the true Gospel, unabashedly proclaimed, can sustain the church. But if we want our worship to be God-centered, then we must pay
attention to what our church's architecture communicates.
DISCUSSION QUESTIONS
1. What message does your church building convey?
2. How does stepping into a great cathedral make you feel? How does stepping into your own church make you feel?
3. Describe the "cruciform" model. How does your church building employ some (or none) of these elements? Is there a specific model your church building does employ? Why do you think the leaders chose what they did?
SUGGESTED READING FOR Further STUDY
Curcic, Slobodan, and Richard Krautheimer. Early Christian and Byzantine Architecture
Rose, Michael S. Ugly As Sin: Why They Changed Our Churches from Sacred Places to
Meeting Spaces and How We Can Change Them Back Again
Schutz, Bernard, et al. Great Cathedrals
Von Simson, Otto. The Gothic Cathedral